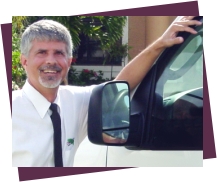 Since opening our doors in 1990 we've had one thought in mind, to give our customers every reason to invite us back again. Our goal is your absolute delight, it's that simple!
And, how do we hope to accomplish that? By overwhelming you with products and service of uncompromising quality and standing behind everything we do with an equally uncompromising No Smile? No Charge. No Kidding!!! guarantee. We'd like to earn your business and the privilege to be the cleaner of choice for your all of your carpet and upholstery care needs.
Our environmentally-friendly, controlled-moisture process cleans using a fraction of the water. Easier on you and the environment, we eliminate long dry times, rapid re-soiling, reappearing spots and most of the familiar inconveniences so often associated with carpet cleaning. Our general cleaner is remarkably effective at removing stubborn soils, is non-toxic, biodegradable and safe for use in virtually any residential, commercial or office setting. From the wall-to-wall carpet in your home or office to your treasured, fine wool area rugs to delicate upholstered furnishings you can call on us with confidence.
As the owner and twenty-plus year veteran of the industry it's my delight to ensure your complete satisfaction!

Give us a call anytime!
Wayne Miller